Consumer Credit Counseling Service of Central Oklahoma
CCCS of Central Oklahoma is the oldest and largest non-profit credit counseling agency serving the state of Oklahoma. We are a United Way partner agency and have been serving Oklahomans since 1967. In our history, we have assisted thousands of families in resolving their delinquent mortgages through our free housing counseling and have also helped Oklahomans repay over half a billion dollars in credit card debt through our Debt Management Plan. In addition to these services we have helped thousands upon thousands over years and years with our free counseling to reduce stress and get a personalized plan to finally become the CEO of their household money.
We invite you to view our website, call us or visit our offices. We are proud to be a part of this community and welcome you to get to know us too.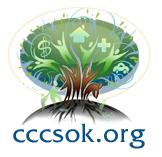 3230 North Rockwell
Bethany, OK