Our BIG DREAM is quality of life, for life, for every individual in Oklahoma who has autism.
AutismOklahoma had grassroots beginnings in 2002 when families began meeting together to help problem solve family challenges.
We create opportunities and engage families to help their own family and a few more. Our programs are FREE or NEARLY FREE and are funded by donations. 95 cents of every dollar donated is used to fund programs in Oklahoma.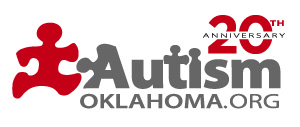 7725 W. Reno, Suite 321
Oklahoma City, OK