Medical Flight Non Profits
Miracle Flights is a non-profit organization that seeks to provide free commercial airfare to individuals in need of life-changing medical care within the U.S. The organizations works to connect patients to the care they need including: medical treatment, second opinions, follow-up visits, or clinical trials at U.S.-based treatment centers. The organization also provides fare to both parents/guardians of the patient. If you or someone you know is in need of the help Miracle Flights provides, you can learn more or request a flight by contacting the organization's flight department at flightspecialist@miracleflights.org or 800-359-1711.
Angel Flight Oklahoma and Angel Flight South Central both offer volunteer private pilots who fly patients to medical appointments. Air Care Alliance lists all volunteer-based flight organizations.
Developmental Disabilities Services
IMPORTANT:  If you are on the DDS Waiting List you must update your contact information through one of the following
Website – Go to https://surveys.okdhs.org/TakeSurvey.aspx?SurveyID=mlL2l58#
Email your contact information to ddsd.waitlist@okdhs.org3
Telephone –Call DDS at (405) 521-6268 Monday-Friday 8:00am-5:00pm
If DDS is unable to contact you, then your waiver application will be closed.
Health Care Information
Health Care Reform Information
Tip Sheet for Rising Insurance Costs
Well Child Visit Planning Tool: www.WellVisitPlanner.org
Affordable Care Act Information
Healthcare.gov
Oklahoma Health Care Authority – SoonerCare
Oklahoma Health Care Authority – Online Enrollment
TEFRA Checklist-OHCA
Have questions about TEFRA?
TEFRA Forms Link
JDMcCarty
14 Questions For Interviewing A Primary Care Physician
Tips for Choosing a Home Health Agency
Behavioral Health – Mental Illness
Back in Session How to Take Care of your Mental Health in the Classroom
Returning to School After a Suicide Loss
Talking About Suicide in Schools
What Educators Need to Know About Suicide
Mental Illness Resource: NAMI OK / NAMI OKC Metro / NAMI N OKC/Edmond / NAMI Tulsa / NAMI Norman / NAMI Southwest OK / NAMI Washington County/Bartlesville
NAMI FAMILY-TO-FAMILY  EDUCATION PROGRAM for family members of close relatives with
Bipolar Disorder (Also called Manic Depression) / Major Depression / Borderline Personality Disorder / Schizophrenia and Schizoaffective Disorder / Panic Disorder / Obsessive Compulsive Disorder / Co-occurring Brain Disorders and Addictive Disorders
A series of 12 weekly classes structured to help family members understand and support their ill relative while maintaining their own well-being.
To register call with the following information: Your name, address, phone number, email address (if available), and the family member with a mental illness (i.e. your son, sister, wife, father, good friend). For family members/caregivers only
NAMI-Tulsa: Phone 587-6264 (Office hours: 9:00 to 4:00 p.m.)
Registration required. Classes limited to 20 persons
Behavioral Health – Autism
Oklahoma Autism Network  http://okautism.org/
Autism Center of Oklahoma http://autismcenterok.org/content/oklahoma-autism-center
Autism Center of Tulsa  http://www.autismtulsa.org/
Autism Oklahoma http://www.autismoklahoma.org
Autism Speaks/Oklahoma https://www.autismspeaks.org/resource-guide/state/OK
Centers for Disease Control and Prevention (CDC) on Autism     http://www.cdc.gov/ncbddd/autism
Autism Spectrum Resources
Behavioral Health – Learning Disabilities
7 Rules for Using ADHD Medications Safely
ADHD changes with development
ADHD Roadmap
Assis. Tech. for Learning Dis.
Attention Deficit Disorder Overview
Children with ADHD. Diagnosis, Treatment
Edmond Family Center For Autism
Learning Disability
Behavioral Health – Substance Abuse
Helpline Parent Peer Coach Initiative
Parent's Toll-Free Line: 1-855-DRUGFREE
Monday-Friday 8am-5pm
Partnership For Drug Free Kids
Parents Helping Parents
Your Childs Treatment: Roadmap A Guide to Navigating the Addiction Treatment System


The Peaceful Family Solutions Children's Program seeks to help children of addicts heal and break the cycle of addiction, using proven engagement strategies that teach children to play their way to understanding and health. During the process, they build upon their strengths, find commonality with their peers, deepen their resilience, and further their intrinsic beauty and worth. Click above for dates.
Criminal Justice Support
Tulsa Reentry One-Stop
helps young men and women involved with the criminal justice system with career training and job placement. They also help with barriers to employment. Support services include housing and treatment referrals, bus passes, interview clothing, and legal assistance. All supports and services are offered at no cost to participants! 
Please contact Candice Thomas at 918 938-6141 or cthomes@tulsareentry.org for referral or more information. Tulsa Reentry One Stop Info  http://csctulsa.org/tulsa-reentry-one-stop/
Oral Health Care
Oral Health Care for Children with Special Health Care Needs
Medical Conditions
Auditory Processing Disorder in Children
Charge Syndrome Foundation Inc.
Batten Disease
Deaf and Hard of Hearing Transition Coalition – Dept of Rehabilitation Services
genetic handbook for families
Understanding RSV. Metro Family fall 2008
Muskogee Hope Center brochure: Speech Therapy and Occupational Therapy in a Kid-Friendly Environment
OKABLE Tech Funding 05:Assistive Technology
Tips for Families Experiencing Difficult Medical Situations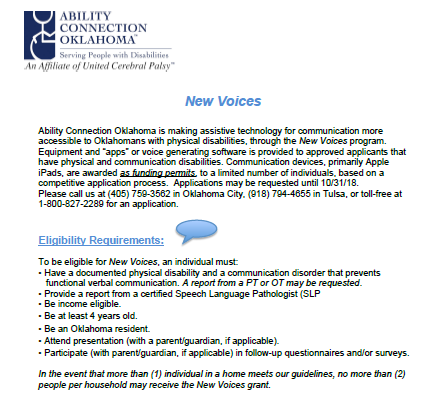 New Voices grant for Assistive Technology for voice generating software with Apple iPads – call (405) 759-3562 in OKC, (918) 794-4655 in Tulsa or toll-free 1-800-827-2289
Ability Connection Oklahoma – United Cerebral Palsy
Oklahoma Deaf Blind TA Project
The Oklahoma Deaf-Blind Technical Assistance Project is a service targeting children and youth who have a loss in both vision and hearing.  The child does not have to be completely deaf and completely blind to qualify – they must have a loss in vision and a loss in hearing.  The project services are free.  Below is detailed information about our services.  If you are serving a child or if you are aware of a child with losses in vision and hearing, please refer them to the Oklahoma Deaf-Blind TA Project.
 Why is it important to refer children to the Oklahoma Deaf-Blind TA Project:
Early identification is crucial for later success.
Children with losses in vision and in hearing have unique characteristics that require special strategies and techniques.
This project is the only entity devoted to serving children with deaf-blindness.
Maintain statewide census of children with deaf-blindness to improve services.
Here's what the Oklahoma Deaf-Blind Project can offer you at no cost: 
Information individualized for the child
1:1 support from project staff and families
State and National resources
Visits to the child's home or school
Notifications of free professional development opportunities
Complete the referral form (Referral Form in Word or Referral Form in PDF) OR call the project to complete by phone.
Have parents/family member sign the release of information.
Mail or email the form to the project.
Asthma
Asthma
Asthma Action Plan
Oklahoma Autism Network
Hospital and Bed Rest
Bed rest and the Rest
NICU Tips Sheet
Caring for an infant in NICU
14 Questions to Ask Your Primary Care Physician. NICU version
NICU Neighborhood 
For Those Who Hold the Littlest Hands – Info & Support for Parents & Babies in NICU
Kangaroo Care
Tulsa Amputee and Orthotic Support
Quick Reference Guide – Children's Hospital at Saint Francis, Tulsa
Panda Press may 2018 May Panda Press from The Children's Hospital at Saint Francis – Articles in this month's edition include our recent STEP Into School Event, the sixth annual Remembrance Ceremony, Flashes of Hope portraits, and the story about a dramatic room remodel for one of our long-time cystic fibrosis patients.
Surviving the PICU Video – provided by: Austin Moore and Malley & Henry Fund 
Premature Birth
Prematurity Tipsheet
Prematurity Resources
NEST
Genetic Module Final for birth/newborn families expecting special health care needs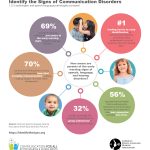 Identify the signs of communication disorders – click image for larger copy – identifythesigns.org for more
Mother and Child Health
Oklahoma Engages Families as Partners to Strengthen SoonerCare Program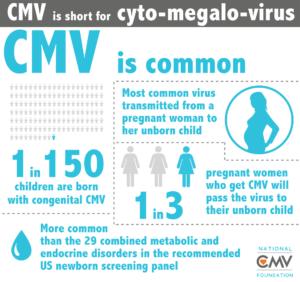 Congenital Cytomegalovirus, or CMV, is the most common viral infection, and the leading non-genetic cause of hearing loss, that infants are born with in the United States. Every pregnant woman is at risk of acquiring CMV. And only 9% of women know about it. CMV is common, serious, and preventable. Learn more
Infantile spasms, also called "epileptic spasms" or West Syndrome, is a type of epilepsy that tends to affect infants under the age of 2 years, and is characterized by clusters of peculiar seizures. These seizures—termed  spasms—are involuntary and usually consist of a brief interruption of behavior, often with lifting and extension of the arms and bending forward at the waist. In many cases, this behavior is accompanied by a rapid and forceful drop of the head. Each cluster typically lasts a few minutes. There are many variations of this pattern.  After individual spasms, children often cry. Clusters of spasms most often occur upon awakening, but can happen at any time of the day. A typical example is presented in the video below. For additional examples of infantile spasms, please see Infantile Spasms Project collection of videos.
Also visit the Child Neurology Foundation website: 
Breastfeeding
Click to read article on Breastfeeding and SoonerCare Benefits
Babywearing Presentation video
Baby-friendly hospitals in Oklahoma
Cherokee Nation W. W. Hastings Hospital, Tahlequah, OK (07/15)
Chickasaw Nation Medical Center, Ada, OK (05/17)
Claremore Indian Hospital, Claremore, OK (6/13) Re-Designation Pending
Comanche County Memorial Hospital, Lawton, OK (10/15)
Hillcrest Medical Center, Tulsa, OK (06/18)
Integris Baptist Medical Center, Oklahoma City, OK (01/15)
Integris Health Edmond, Edmond, OK (05/16)
St. Anthony Hospital, Oklahoma City, OK (11/16)
Spanish Resources:
SaveSave